Jobs
RSM Belgium groeit, verandert en evolueert elke dag. Wij zoeken mensen die samen met ons de dingen in beweging willen zetten. Kennisdelen, nieuwsgierig en leergierig zijn, da's voor ons belangrijk. Dat stimuleert verandering.
Wie zoeken wij?
We zijn op zoek naar gepassioneerde mensen die ons kunnen helpen ons verhaal verder uit te bouwen!

PERSOONLIJKHEDEN GEZOCHT
Wij zoeken mensen met originaliteit, passie en gedrevenheid. We zijn op zoek naar mensen die nieuwe manieren van denken aanbrengen, die het vertrouwen hebben om kritisch te zijn en dingen in vraag te stellen, en die de wil en goesting hebben om keer op keer projecten en aanvragen op te leveren.

MENSEN DIE ZORGEN VOOR ELKAAR
Mensen staan ​​centraal bij alles wat we doen. Onze medewerkers zijn de reden waarom onze organisatie elk jaar groeit, de reden waarom we zo'n sterke reputatie hebben opgebouwd en de reden waarom onze klanten ervoor kiezen om keer op keer met ons samen te werken. Daarom zoeken we mensen die er steeds naar streven om steeds het beste van zichzelf te geven en het beste uit hun collega's te halen. Collega's die willen uitblinken in wat ze doen en anderen helpen, gewoon omdat dit geweldig veel plezier doet. Voor ons betekent dat medewerkers die zich inspannen om een ​​positieve impact te hebben op alles wat ze doen en om anderen in beweging te brengen. Met andere woorden, mensen die om elkaar geven.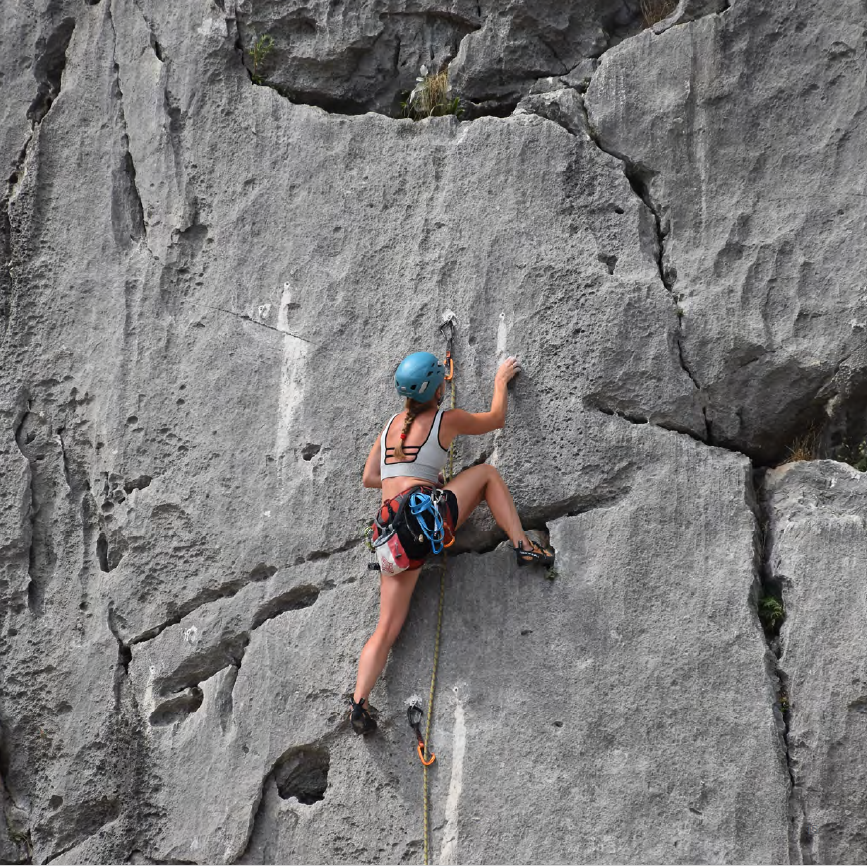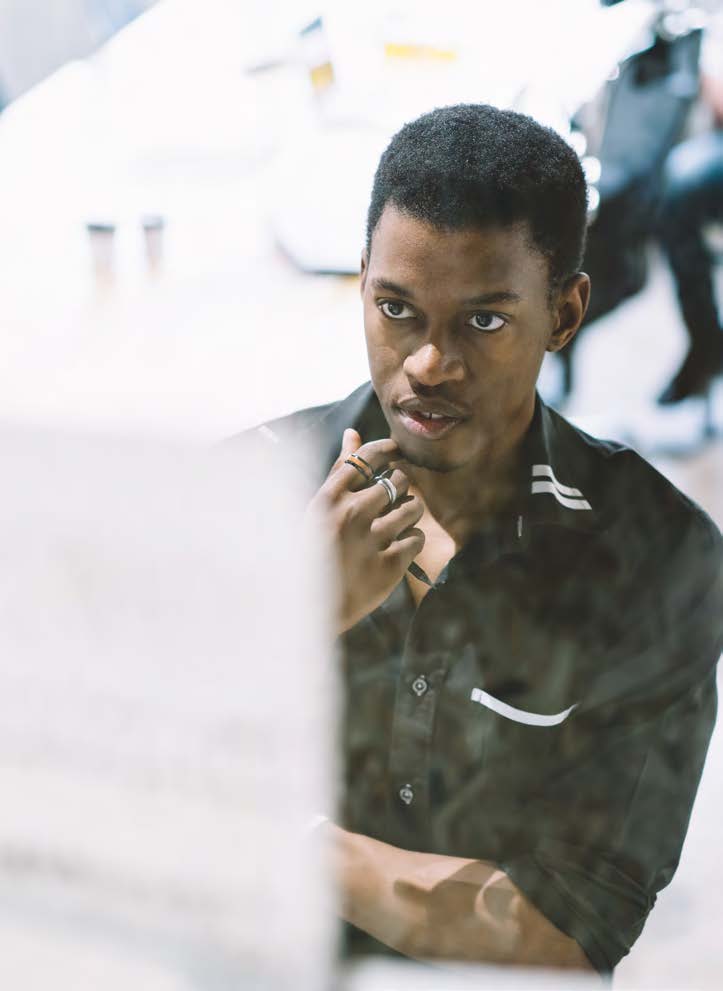 TEAMSPELERS VANAF HET BEGIN
Onze teams werken samen aan en op verschillende opdrachten voor klanten, dus we willen graag mensen aan boord die vanaf het begin klaar staan om elkaar en onze klanten te helpen. We zijn op zoek naar teamspelers met de energie en passie om dingen voor elkaar te krijgen; die wendbaar zijn en zich aanpassen aan elke situatie om resultaten te behalen.

ACADEMISCHE ACHTERGROND
Bij RSM zoeken we mensen met een sterke academische achtergrond, maar we zoeken niet alleen naar goede examenresultaten of referenties. Wij vinden nieuwsgierigheid, lef, samenwerken, kritisch denken, zorgzaamheid, een persoonlijkheid en originaliteit net zo belangrijk. Iedereen die bij onze cultuur past, kan een carrière starten en opbouwen bij RSM Belgium, met of zonder grenzen.
We zijn op zoek naar mensen met een breed scala aan disciplines - bedrijfskunde, accountancy, financiën, technologie, recht, wetenschap enz. Wat voor ons belangrijk is, is dat je een oprechte interesse toont om een ​​geweldige accountant, belastingadviseur, auditor of een bedrijfsadviseur te worden.
Onze voordelen
Onze medewerkers zijn onze drijfveren van onze organisatie, ze zijn onze organisatie.
We vinden het daarom belangrijk dat ze op een juiste manier gewaardeerd en erkend worden, zowel op professioneel als persoonlijk vlak.
We geven hen dat wat nodig is om gezond te blijven, om het werk te kunnen doen en hun ambities waar te maken, om hun privéleven te combineren met het werk, om vandaag en morgen geen financiële zorgen te hebben.
Wat bieden we je aan?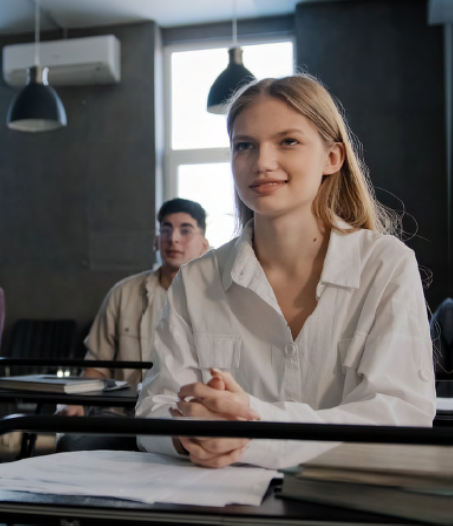 Onze eigen RSM Belgium Academy
RSM Belgium investeert in haar mensen.
In 2020 is onze RSM Belgium Academy opgericht met één doel: het aanbieden van geweldige trainingen voor alle medewerkers en klanten.
RSM Belgium Academy ondersteunt onze professionele carrières en coördineert, plant en regelt alle details van zowel fysieke als e-learnings.
Sinds 2022 hebben we Junior Schools, Senior Schools, .... Partner Schools per niveau en investeren we verder in onze mensen zodat ze al het nodige hebben om professioneel, menselijk en technisch te groeien om hun carrière een vliegende start te geven. Onze programma's bieden onze mensen de basis voor een lange en boeiende carrière bij RSM.
RSM Belgium Charity Committee
We geven om mensen en de samenleving en vinden het ontzettend belangrijk om ons steentje bij te dragen. We ondersteunen verschillende lokale organisaties zowel financieel als door middel van vrijwilligerswerk het hele jaar door.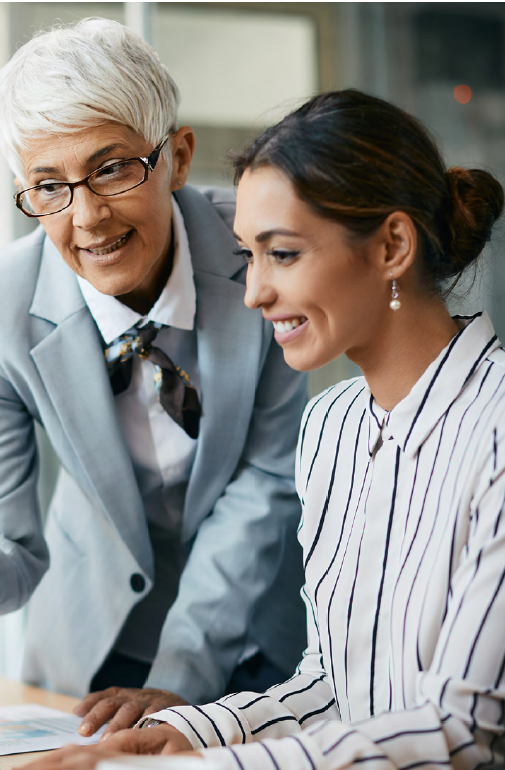 Mentoring en Coaching
Je coaching traject bij RSM Belgium begint vanaf de dag dat je je contract hebt ondertekend. Je krijgt op een interactieve manier heel wat informatie over onze organisatie en je team neemt dagen vóór je eerste dag contact met je op om alle nodigde informatie te geven, zodat je vol vertrouwen kan starten.
Op je eerste dag verwelkomen we je op ons kantoor in Zaventem. Dit is een dag waarop je een inkijk krijgt in onze organisatie, door onze CEO en Internal Services. Je buddy staat je op te wachten tijdens de koffiepauzes en de lunch en deelt zijn/haar ervaringen.
Vanaf dag twee start je je traject binnen je business unit en word je gecoacht en ondersteund door je collega's, je peers, je coach en iedereen met wie je gaat werken.
Coaching is een continu proces van communicatie tussen een coach, een medewerker en hun teamgenoten ter ondersteuning van het bereiken van de strategische doelstellingen van de organisatie en die van henzelf.
Het gaat over het toewijzen van rollen, het afstemmen van doelen, het stellen van verwachtingen, het geven van feedback en het erkennen van resultaten, waardoor zowel individuen als onze organisatie resultaten kunnen behalen.
RSM World Day
Elk jaar vieren alle RSM Member Firms en hun medewerkers RSM World Day, een dag waarop we stilstaan bij het feit dat we deel uitmaken van één groot RSM Network. Het is voor ons een gelegenheid om ons gemeenschappelijke doel te vieren, deel uit te maken van een wereldwijde gemeenschap en terug te geven aan de maatschappij door middel van Maatschappelijk Verantwoord Ondernemen (MVO) activiteiten.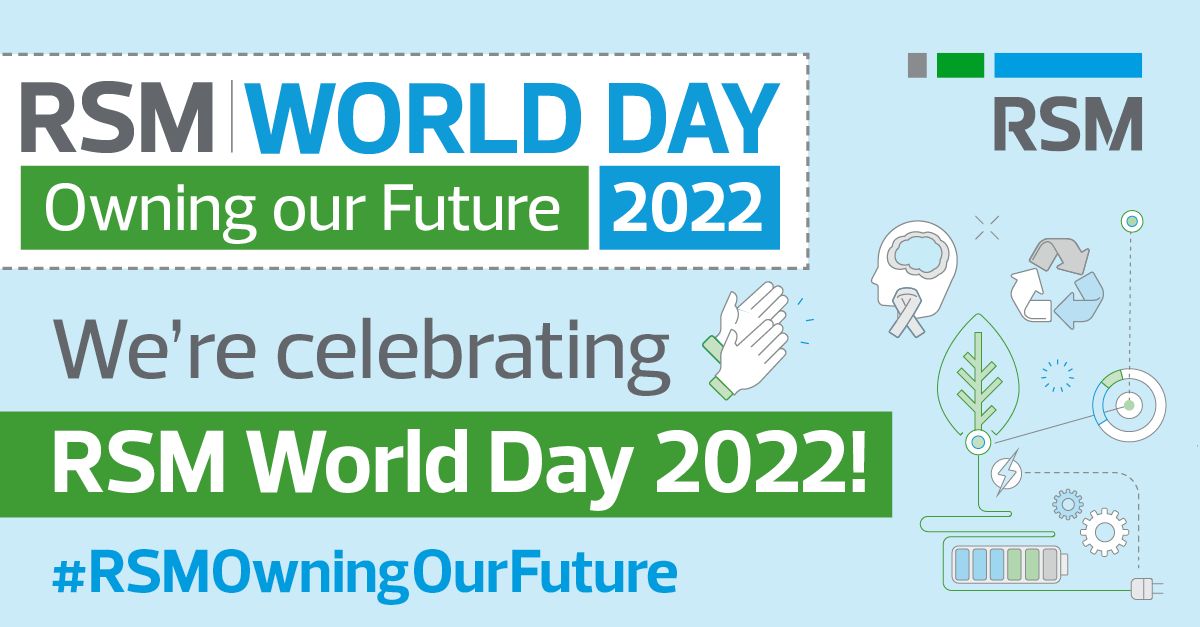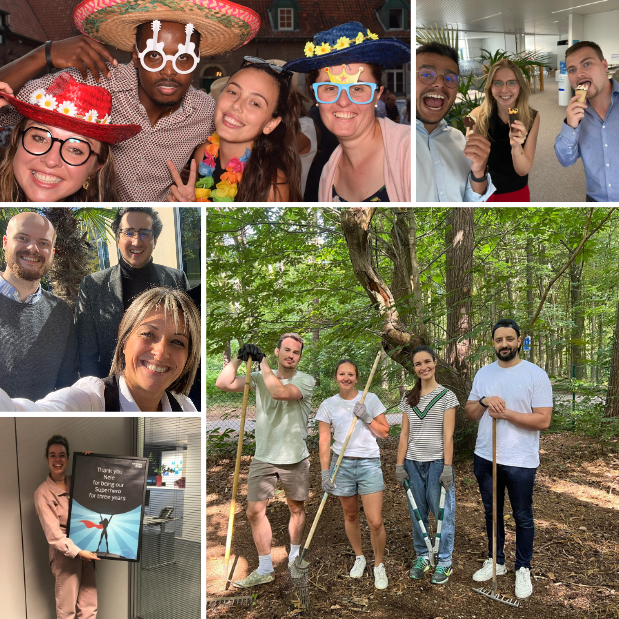 Het welzijn van onze medewerkers
We investeren in het welzijn van onze medewerkers. Dit brengt gelukkigere en gezondere medewerkers en een fijnere werkomgeving met zich mee. We trachten ervoor te zorgen dat onze mensen elke dag het beste uit zichzelf willen en kunnen halen, zowel persoonlijk als professioneel. Dit begint met begrip te tonen en te zorgen voor onze mensen als individuen - hun persoonlijkheid en hun verschillende levensfases. 

Wat betekent dit concreet?
Een gigantisch aantal teambuildings, bedrijfs- en sportevenementen, Tuesday Juice Day, Walking Thursdays, Hercules Trophy, New Year's Event, ergonomische sessies, prioriteits- en stressmanagementsessies, teamlunches, verjaardagen, jubilarissen en nog veel meer.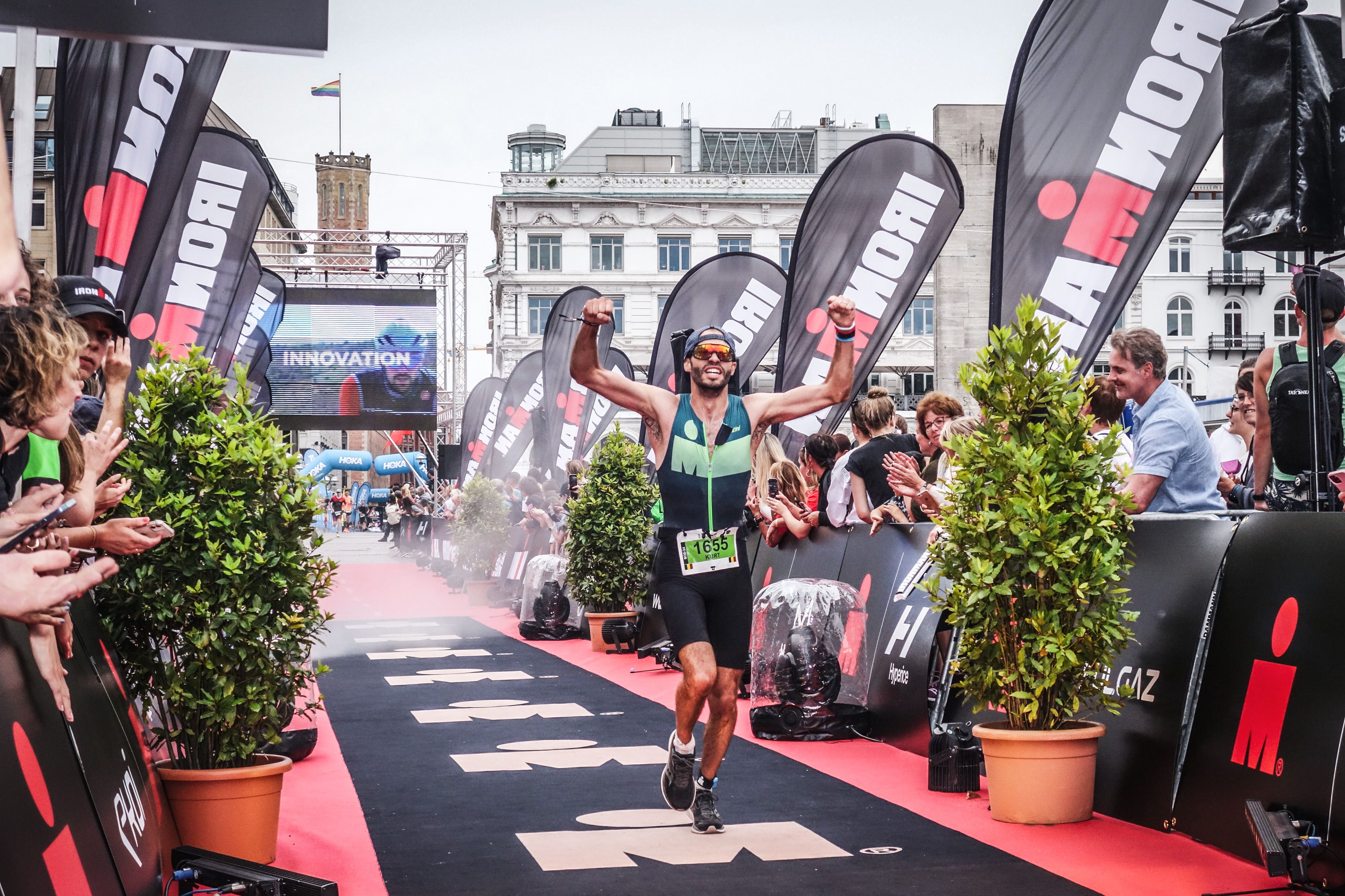 Integratie leven en werk
We stimuleren onze mensen om elke dag het beste van zichzelf te geven. Het bieden van een positieve werkomgeving en flexibele werkuren is daar een belangrijk onderdeel van.

We geven onze mensen de tijd om te investeren in hun persoonlijke leven, ambities, hobby's en interesses, of het nu gaat om bijscholing, trainen voor een ironman, vrijwilligerswerk, sportcoaching, lesgeven of het gezinsleven.
RSM Belgium biedt een reeks flexibele werkregelingen aan om je privé leven en je werk makkelijk te combineren. Deze regelingen worden aangeboden op permanente of korte basis en kunnen indien nodig worden aangepast aan je individuele behoeften en verplichtingen.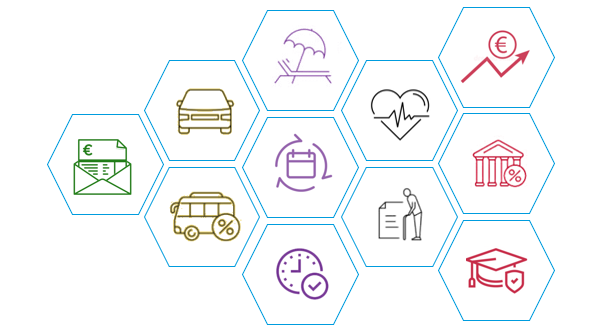 En voor de rest?
Een brutosalaris dat helemaal in lijn ligt met je achtergrond en competenties.
Een bonus wanneer je uitzonderlijke dingen doet bij RSM Belgium.
Een Employee Referral Programme voor medewerkers.
Een auto en tankkaart of gratis openbaar vervoer.
Een mobiele telefoon en databudget.
Een hospitalisatie en zorgverzekering via een zorgpartner die 24/7 bereikbaar is, voor jou, je partner en kinderen.
Heerlijke koffie, thee, JustBite healthy snacks, fruit, chocolade, cake, … omdat we graag delen.
Hoe solliciteren?
Online via smbelgium.be/careers, zo zijn we 100% zeker dat we je sollicitatie goed ontvangen hebben.
We proberen dit proces in maximaal twee weken af ​​te ronden, maar we begrijpen het mocht je meer tijd nodig hebben. De volgende stap in je leven neem je niet zo maar; het is iets wat je bewust doet met volle goesting en overtuiging.