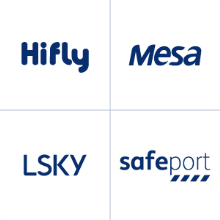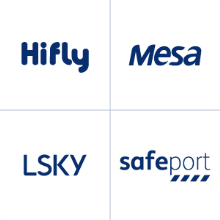 Hi Fly
Hi Fly is the largest wet leasing specialist operating an all Airbus fleet. The EASA and IOSA certified and FAA approved carrier operates a fleet of large widebody aircraft, Airbus A330s, A340s and the A380, exclusively available for Wet Lease worldwide.
Wet Lease - the supply of aircraft and crew, maintenance and insurance - is Hi Fly's core business and has been developed with unmatched operational expertise for the last 15 years.
MESA
Mesa is an aircraft line/base maintenance provider based in Portugal, Belgium and Australia. The company is oriented to perform maintenance worldwide on Airbus A318, A319, A320, A321, A330, A340, A380 and BOMBARDIER CL-600-2B16.
Mesa is a flexible organization with highly trained staff and has several maintenance stations around the world aimed to support the most diverse maintenance requirements whenever and wherever needed.
Safeport
Safeport is today the undisputed leader in the segment Business Aviation in Portugal. With a 20-year experience, the company is able to overcome the expectations of the most demanding customers.
Safeport is present at Lisbon Airport and with representation at all other airports in the country, namely Cascais - Tires, Oporto, Beja and Faro. Safeport Network also reaches the African continent, with a presence in Cape Verde - Sal Island.
LSKY
LSKY is a company specialized in Inflight Catering for commercial and business aviation, based in Lisbon, that covers Lisbon International Airport (LPPT), Cascais Aerodrome (LPCS) and Beja International Airport (BYJ/LPBJ). LSKY is also able to provide high quality corporate catering for company events